DESIGNED, CUT AND STITCHED IN SYDNEY, AUSTRALIA. FREE SHIPPING ORDERS OVER $99+ AUS WIDE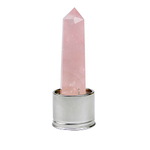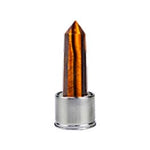 Interchangeable Crystal for Glass water bottle
Regular Price

$32.92

Sale Price

$32.92

Regular Price

$32.92

Unit Price

per
Tax included.
Shipping
calculated at checkout.
Choose a crystal that suits your mood or even have one for each day of the week.
If you cant decide on a crystal for your glass water bottle- we now offer the chance to change your crystal depending on your mood.
Clear Quartz - HEALING | CONCENTRATION | AMPLIFIES ENERGY
Rose Quartz-  SELF-LOVE | COMFORTING | OPTIMISTIC
Green Aventurine - STRENGTH | HAPPINESS | MANIFESTING GOOD FORTUNE
Amethyst- PROTECTIVE | INTUITIVE | SELF-CONTROL
Tigers Eye - COURAGE | VISION | INSPIRATION
Simply unscrew the base from the bottle then unscrew the crystal mount from the base.  
You will need a crystal and glass water bottle. Shop here for one

*Please note: silver. base is not included with this product. Price is for one interchangeable crystal component.

Q: How do crystals infuse the water? 
A: Crystals are borne from nature, and are a composition of elements. It is believed that the crystal-infused waters carry the vibration of the stone based on your intention and heal from within. 
Q: Is this bottle dishwasher safe? 
A: Yes! Simply unscrew the stainless steel base and remove the crystal. All pieces are detachable for easy cleaning to ensure your water always tastes fresh. 
Q:  Is it safe to have crystals in my water? Are they toxic?
A: Crystal infused water has been used for centuries. Rose quartz is safe and non-toxic. 
Q: Does my crystal water bottle come with a case? 
A: Sure does! Your gorgeous bottle comes with its own neoprene bag, which means it's easy to carry and protected from damage, too. 
Q: How much water will the bottle hold? 
A: Each bottle holds up to 550ml – which is just over 25% of your daily recommended fluids.  You'll find yourself drinking more than you normally because you'll feel so good doing it. You may even want to order one for your desk or exercise area at home, and another for on-the-go. 
Please note: Crystals should not be used as a replacement for medical treatment. All information about the metaphysical properties of the crystals is for reference only. We do not recommend using crystals as a substitute for conventional medical or psychological treatment and do not claim they cure or heal medical conditions. Please always listen to the advice of your medical professional and only use crystals as a complementary therapy in addition to medical treatment.